MotoMaster Total Terrain A/T
Clearance is on selected sizes. Check in store for availability.
Product #: 0052087P Manufacturer Part #:
Availability: Temporarily Unavailable
Features
It has sawtooth circumferential grooves that work together to provide solid all terrain performance. With an optimized mould profile that is designed to provide favourable balance of wear and handling characteristics. >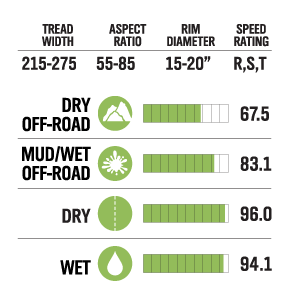 * Each of our tires were scored on a 100-point scale based on test data and the opinions of professional drivers.
Specifications
Speed Rating: NA
Load Range: NA
Mileage Rating: N/A
Wheel Width Max:
Sidewall Style: NA
Buying Guides
Warranty