Goodyear Nordic Winter
Product #: 0041771P
Availability: Please select a vehicle or size to view availability
Features
The Goodyear Nordic Winter tire offers exceptional traction on snow-covered and icy roads. Winter tread compound maintains its flexibility and provides exceptional traction in cold conditions, giving you the confidence to get through tough Canadian winters.
With directional V-Tred™ technology, and snowchutes that help evacuate snow, slush and water for a confident grip.
Its continuous center rib helps provide steering stability.
Features zig-zag microgrooves, and outfitted for optional metal studs to help provide confident traction in snowy and icy conditions.
Has a deep tread depth of 13/32nds, providing long-lasting treadwear.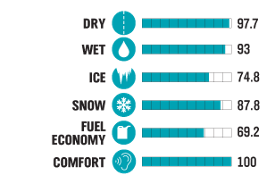 *Each of our tires were scored on a 100-point scale based on professional test data.
Note: It is Canadian Tire's policy to only install winter tires in sets of four.Using dissimilar tires on your vehicle can lead to reductions in handling performance and overall stability of your vehicle.Installing a complete set of winter tires maximizes the safety of your vehicle by ensuring all four corners of the vehicle have consistent traction,and that the full benefits of ABS or traction control systems will be maintained.For these reasons,Transport Canada as well as all major tire manufacturers strongly recommend four winter tires be used on all passenger vehicles.In Quebec,all passenger vehicles are required by law to have winter tires installed on all wheels during the winter season effective December 15th to March 15th.
Specifications
Specifications:



Please use the drop down menu above or the vehicle selector to select your size and view product specifications.
Buying Guides
Warranty