Goodyear Nordic Winter
Reg. From $99.99 * (each)
Product #: 0041771P
Availability: Please select a vehicle or size to view availability
Features
The Goodyear Nordic Winter tire offers exceptional traction on snow-covered and icy roads. Winter tread compound maintains its flexibility and provides exceptional traction in cold conditions, giving you the confidence to get through tough Canadian winters.
With directional V-Tred™ technology, and snowchutes that help evacuate snow, slush and water for a confident grip.
Its continuous center rib helps provide steering stability.
Features zig-zag microgrooves, and outfitted for optional metal studs to help provide confident traction in snowy and icy conditions.
Has a deep tread depth of 13/32nds, providing long-lasting treadwear
Test Results:
Very comfortable ride
Good for variable weather conditions
Size tested for passenger tires - 205/55 R 16
This tire has been tested for life in Canada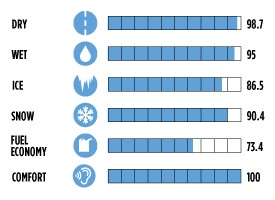 *Each of our tires were scored on a 100-point scale based on professional test data.
Specifications
Specifications:



Please use the drop down menu above or the vehicle selector to select your size and view product specifications.
Buying Guides
Warranty