Features
A new generation of winter tires with a new rubber compound, siping technologies and an aggressive V-shaped tread design.
Deep snow traction is provided by the lug shoulder edge, step groove, and longitudinal zigzag grooves.
The special Flex Ice™ compound is formulated to maintain its flexibility under the most extreme cold weather conditions, including snow, slush, ice, wet and dry.
Cross Z-Sipes™ Technology uses a special 3-D design that locks the sipes in place. Combined with micro-pumps, they provide improved stability in all winter conditions.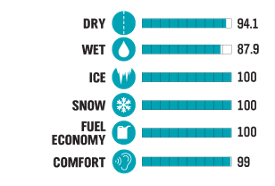 *Each of our tires were scored on a 100-point scale based on professional test data.
Note: It is Canadian Tire's policy to only install winter tires in sets of four.Using dissimilar tires on your vehicle can lead to reductions in handling performance and overall stability of your vehicle.Installing a complete set of winter tires maximizes the safety of your vehicle by ensuring all four corners of the vehicle have consistent traction,and that the full benefits of ABS or traction control systems will be maintained.For these reasons,Transport Canada as well as all major tire manufacturers strongly recommend four winter tires be used on all passenger vehicles.In Quebec,all passenger vehicles are required by law to have winter tires installed on all wheels during the winter season effective December 15th to March 15th.
Specifications
Size: 225/70R16
Speed Rating: T
Load Index - Single: NA
Load Index - Dual: NA
Load Range: NA
UTQG: NA
Mileage Rating: 60000 km
Wheel Width: 16.00 in / po
Wheel Width Min: 6.00 in / po
Wheel Width Max: 7.50 in / po
Sidewall Style: BSW
Weight: 28.370 lb
Country of Origin: NA
Buying Guides
Warranty