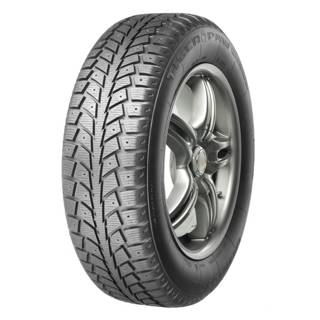 Uniroyal Tiger Paw Ice & Snow II
Product #: 0080074P | Manufacturer Part #: 38927
Availability: Please select a vehicle or size to view availability
Features
Richly siped tread surfaces, deep tread grooves and a special winter traction compound ensure great traction in ice and snow.
Highly siped tread surface, deep tread grooves and winter adapted tread compound of the Tiger Paw provides excellent winter road traction.
Improved technology of winter polymer compound that maintains molecular adhesion and tread flexibility at low temperature.
The DuraShield construction offers long-lasting and reliable performance in winter conditions.


Note: It is Canadian Tire's policy to only install winter tires in sets of four. Using dissimilar tires on your vehicle can lead to reductions in handling performance and overall stability of your vehicle. Installing a complete set of winter tires maximizes the safety of your vehicle by ensuring all four corners of the vehicle have consistent traction, and that the full benefits of ABS or traction control systems will be maintained. For these reasons, Transport Canada as well as all major tire manufacturers strongly recommend four winter tires be used on all passenger vehicles. In Quebec, all passenger vehicles are required by law to have winter tires installed on all wheels during the winter season effective December 15th to March 15th.
Specifications
Specifications:



Please use the drop down menu above or the vehicle selector to select your size and view product specifications.
Buying Guides
Warranty